1945 – BETWEEN THE TWO WORLD WARS..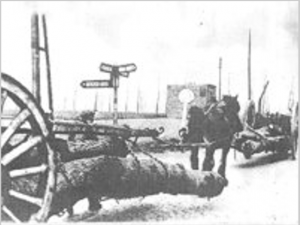 Between the two world wars Leon Mattheeuws, dealer in carbon, began with offering local transport services with horse and cart.
After 1945 he used the leftover military UK equipment to motorize the trade.
1958 – AFTER THE SUDDEN DEATH..

After the sudden death of Leon Mattheeuws in 1958 his two eldest sons took care of the younger children and the business.
1960 – IN THE EARLY 60'S..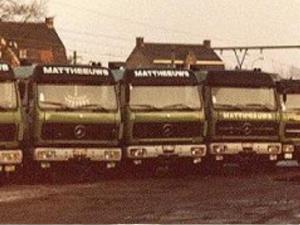 In the early 60's each of the three sons started their own transport business, among which BVBA Mattheeuws Vander Vennet of Eugène Mattheeuws and his wife Cecile Vander Vennet was the most successful.
In the early eighties some twenty tipper combinations were on the roads every week to countries as Denmark, Spain, the UK and Italy.
1990 – ERIC MATTHEEUWS..
Eric Mattheeuws started in 1990 with his spouse Beatrice Matthys the company NV Mattheeuws Eric Transport. This transport company, that had three employees in 1990, has evolved by 2008 into a professional 3LP (3rd party logistic provider) with more than 90 employees spread between 7 companies in three countries.
A spin-off company, active in the petrol distribution activity is brought under the company RomacFuels.
2006 – THE ENTRY OF..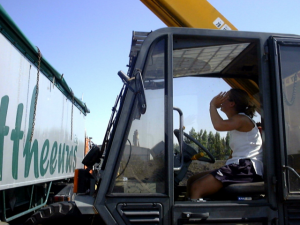 The entry of the eldest daughter Celine in the company and the start of Deep Sea forwarding, including the exploitation of scrap metal.
2009 – THE BUILDING OF..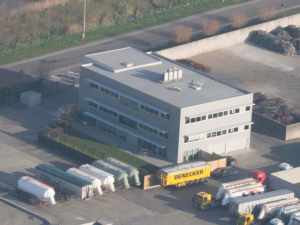 The building of a new building for the administration, dispatching & accounting.
2012 – THE ENTRY OF THEIR SON-IN-LAW..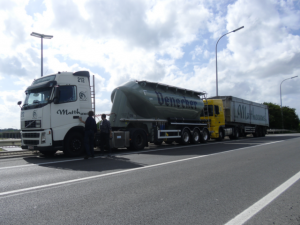 The entry of their son-in-law Mathieu Vander Paelt.
The family takes over the company firma Transport Denecker and the entire cement department of De Dijcker.
2013 – THE ENTRY OF THE YOUNGEST DAUGHTER..
The entry of the youngest daughter Charlotte and the start of Bulmac as nation in Ostend with a warehouse of 3000m² along the Diepwaterkaai. As well as a duplication of the surface of the garage to 3000m².
On this moment the company has 20 employees.
2014 – MATTHEEUWS ERIC TRANSPORT IS LAUREATE..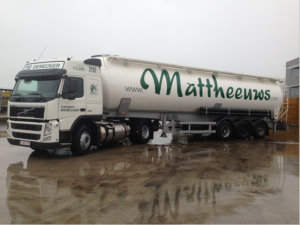 Mattheeuws Eric Transport is Laureate (Green Truck Award) and Romac Fuels opens a renewed truck stop of 1100m²!
Romac Fuels and Mattheeuws Eric invest together with Fluxys in the first commercial LNG station in Belgium.
Mattheeuws Eric Transport buys the first 26 LNG trucks.
Mattheeuws counts more than 250 employees in 3 countries, with more than 10 nationalities.
Do you have a question? We like to help you!
| | 0032 58 31 17 79 |
| --- | --- |
| | info@mattheeuws.com |
| --- | --- |